A.J.Williams Photography are a London based two man team who specialise in true reportage style photography. Heavily influenced by the first generation of French and American documentary photographers such as Willy Ronis, Robert Doisneau, Cartier Bresson, Steichen, Steiglitz, Frank and many more, we are committed to keeping the predominantly monochrome, gritty dynamic flame of those early Group f64 and latterly
Magnum schools well and truly burning. Finding that digital noise, if put through the right processes, translates remarkably well into 'grain' we are enjoying a tremendous amount of acclaim from our clients and are happy to showcase one particular image from our last wedding, a delightful Humanist event held up on Arthur's seat, a small loch set into a volcanic, heather strewn crag just outside of Edinburgh.
Pat and Debs, both musicians fronting their own bands, composed their own vows and devotions to one another as well as a song for their new little boy, Johhny. The small gathering, all friends and almost exclusively musicians also, were all collectively named as Johnny's Godparents. This was a truly remarkable event and one which we were delighted to have covered, particularly since the reception developed into a full blown concert by all the different bands who had all brought their instruments along.
Pat and Debs have received their pictures and are absolutely delighted with them. We leave you with one of those images.
We are A.J.Williams Photography at
www.ajwilliamsphotography.co.uk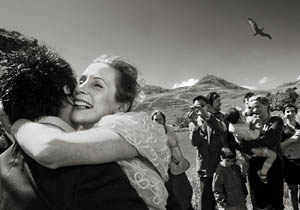 Just Married' Pat and Debs on Arthur's Seat, Ediburgh, May 24th, 2008.
Image by Jason Pierce-Williams of A.J.Williams Photography.