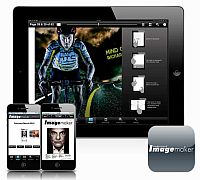 Professional Imagemaker is renowned as one of the most informative magazines in the photographic business.

Aimed at the professional photographer through to the serious enthusiast, Professional Imagemaker features articles on photographic techniques, photographic software, specialist interviews, practical advice and photographic inspiration to name a few.

This magazine will inspire and educate you to enhance you photographic career.
Within our App we have included a complimentary taster, to view this issue open the app and slide the magazine over to the "Professional Imagemaker Taster Issue". Once you click this it will open the taster issue archive and you will be able to view the 62 page issue free of charge.

The Professional Imagemaker app provides access to a number of editions of the magazine and you can purchase access to these with a 1 month subscription.

During your subscription period you will be able to view any new issues that are released along with an archive of back issues up to the present date.
If you have any questions about the app, please let us know and we would be more than happy to help.
To view the app please see: http://itunes.apple.com/us/app/professional-imagemaker/id489811498?ls=1&mt=8
Professional Imagemaker can also be viewed online for just £2.99 an issue. Use promotion code nlPROIMGmarch to try out our online version for just £1.99
For more information on the online version please see: http://t.co/80kY0Wa6