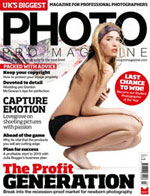 Join now for 6 months and receive a 6 month subscription to Photo Pro Magazine
For just £49.99 you get six months membership of The Societies with all the many benefits that brings, including networking opportunities, access to a comprehensive range of seminars and workshops, the potential to acquire Distinctions, feedback on your work via the Mentor Me programme and regular copies of Professional Imagemaker Magazine.
On top of this you also receive six-month's subscription to Photo Pro Magazine, itself worth over £25, which is packed with features, information and tips from some of the most successful photographers and trainers in the business today. It's the perfect package for those looking to move into the photographic profession, so sign up today.
Would you like more success with your photographic career?
For members of the Societies help is at hand:
Gain extra referrals to your web site by being listed on our sites

Network with 1000's of like minded photographers worldwide on our Forum

Have positive and helpful feedback on your images from our 'Mentor Me' programme

Gain distinctions from our qualification programme
What Our Members Say:

"...I joined to improve my photography and network, and I have definitely came along since I did. I am personally very glad I joined, for the cost its great..." - Matthew BW

"...When I consider the cost of all this knowledge available to all of us, the experience freely shared by so many members and the plain friendly helpful attitude shown by so many, I think that the £99 was a chunk of cash VERY well spent..." - Matt C

"...i can honestly say though that i have found the Society to be both professional and very welcoming and as a relative newcomber have found a wealth of information on here..." - Martin

Available Light

There are huge advantages to shooting with natural or available light: it lets you shoot more spontaneously, it puts your portrait subjects at ease, and it makes it easier to see the relationships between highlights and shadows. Above all, working with natural light will get you to think on your feet and become a better photographer, because every time you shoot you'll be presented with a new lighting situation. This book will help you rise to each occasion and create outstanding images with natural light.

Was £24.99 Now £15.00

http://thesocieties.net/store/

--

CLASSIC Pro Techniques & Color Management Set CS3 (Eddie Tapp)

Was £165.00 Now £40.00
Photographic News
Quick Tips - Now let's get this straight!
The problem is one we all face from time to time. A beautiful window, a memorial frieze, whatever – they are always too high! In the absence of a rising-front lens/camera, pointing the camera upwards, to get in all the view, results in key stoning. To cap it all, the shot is probably not level and you are not quite centred, so the left side is a different size to the right side! The shot would look so much better all squared off.
Read the solution here: http://swpp.co.uk/professional_imagemaker/straight.htm