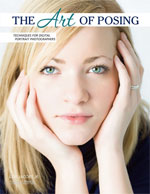 The Art of Posing

From facial expression and body angles to camera optics and ideal lighting, this invaluable photography reference discusses all the facets of posing. Featuring 10 acclaimed photographers and their exceptional images, this detailed guidebook illustrates how each artist approaches the practice of posing and offers his/her advice on how to achieve more successful and visually appealing portraits. Business-related concerns are also addressed, ensuring that the professional photographer remains relevant and marketable in terms of composition and style.
Members Training Days - June 2010
8 June Leicester - Andrea Barrett
14 June West Yorkshire - Stewart Randall
15 June Manchester - Stewart Randall
16 June Rotherham - John MacRea and Dennis McGuirk
17 June West Midlands - John MacRea and Dennis McGuirk
21 June Buckinghamshire - Morag McDonald
23 June Liverpool - Mike Orr
24 June Yorkshire - Mike Orr
Each day is split into two sessions.
Cost: £30 per session, per person.
For more information on the days please see: http://swpp.co.uk/seminar_files/members_training_days.htm
Public Liability & Professional Indemnity Insurance for £110!

Did you know you could now pay even less for your insurance?

Aaduki Multimedia has signed an exclusive deal with the Societies to provide insurance to its UK members at fantastic prices that are not available anywhere else in the market!

'Aaduki has always offered value for money policies but these deals are so good that we simply cannot offer them to everyone! You can now get Public Liability up to £2 million and Professional Indemnity up to £75,000 for the amazing cost of £110 but only if you're a member of the fastest growing photographic organisation in Europe. We also offer great rates for equipment and other covers too!'

This insurance offer would normally cost you over £180 so there is an instant saving of £70 towards your membership fee straight away!
Now is the time to be part of the Societies and benefit from the excellent Insurance and other offers exclusive to our membership.

For the Insurance, call us on 0845 838 6933 with your membership number and we can provide the cover for you straight away.