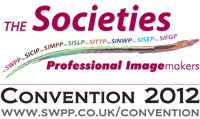 The Societies 2012 Photographic Convention
We are delighted to announce the preliminary 2012 Convention schedule.
Celebrating our 10 years of Conventions

If you want to raise your photographic game, meet fellow professional photographers, see the latest information on photography, business and technology then this event is a must.

The primary major photographic event 2012, which brings together: photographic business leaders plus forward-thinking photographers, whose ideas spark innovation and change in the industry.

A compressive seven-day programme of seminars, workshops, masterclasses and location shoots, all designed to take your photography to the next level.

Convention: 10th-15th January 2012 - Trade Show Dates: 13th-15th January 2012
Novotel London West – Hammersmith

swpp.co.uk/convention/2012/
Seminars
At the 2012 Convention there will be over 100 Speakers covering a multitude of specialties from wedding and portraits, landscape and commercial, Photoshop and digital workflow, business and marketing, lighting and posing and more.
Seminar Type
Superclass
Masterclass
Full Day
Location seminars
Business School
List of Seminar Subjects
Architecture
Boudoir
Business
Children
Commercial
Competition
Creativity
Digital
Events
Family Portraiture
Fashion
Fine Art
Hands on
Inspiration
Landscape
Lighting
Maternity
Nightime
Pets
Photoshop
Portraiture
Posing
Press
School
Sport
Video
Wedding
Workflow
Trade Show
Pre register your Trade Show Tickets before Friday 6th January 2012 as after this date they are £6.00
Beat the queue and Book Now.
Tickets Explained
Here at The Societies we try to make your visit to the Convention as valuable as possible.

We have many tickets and we hope to help you decide which ticket is best for you, so your time at the Convention is as productive as possible. See the 'Tickets Explained' page for more information.