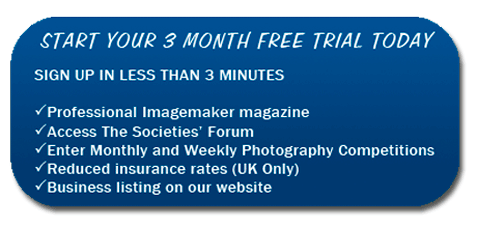 3 Month Free Trial
We would like to extend an invitation for you to consider joining The Societies, and for that purpose we have prepared an exclusive offer for our newsletter subscribers. You can try us out for 3 months free of charge and if you enjoy the benefits of membership, you can continue at just £10 a month. You can sign up hassle free by using the PayPal link below:

https://www.paypal.com/cgi-bin/webscr?cmd=_s-xclick&hosted_button_id=HAYCS9Y3AMVAA
The Societies has continued to develop new benefits that will help you with your photography and business.

The online forum continues to be the corner stone for advice on equipment, photographic techniques and business suggestions. We also host a range of weekly, monthly and annual competitions which you can enter whilst on your trial period.

Other benefits of membership include:

Training and Development
Seminars & Road Shows (Discounted to members.)
Mentoring programme
The Professional Imagemaker magazine (bi-monthly)
Online Forum
Annual Convention and Trade Show (Discounted to members.)
Enhancing Your Business
Add prestige to your business with a qualification.
Business listing on our website
Online Exhibition
Members are entitled to use the logo on web sites, business stationery, displays, adverts etc.
24 hour legal advice line (UK Only)
Discounts on Photographic Products and Services
Reduced insurance rates (UK Only)
Free to join Bump to Baby and My First Year schemes (UK Only)
Trade sponsored promotions for members
Discounts on accepting Credit and Debit Card (UK Only)
Competitions
Monthly Image Competitions
Annual 20x16 Print Competition (Discounted to The Societies members.)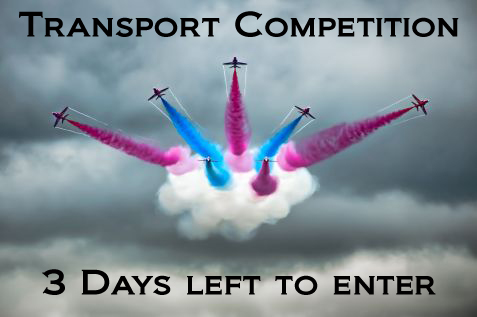 There is just 3 days to enter our 'Transport Photography' Competition
Whether it's planes, trains or automobiles, the subject for our new competition is "Transport", so let's see your best images of who or what takes us from a to b
Enter here - http://sittp.com/transport_image_comp/index.htm
Current entries - http://sittp.com/transport_image_comp/entries.htm
The Great Outdoors competition is still open for entries http://sinwp.com/great_outdoors/index.htm


Cash back Offer on Quantum QFlash and Turbo Batteries Extended
http://swpp.co.uk/news/2013/Cash-back-Offer-on-Quantum-QFlash-and-Turbo-Batteries-Extended.htm

Ede and Ravenscroft choose Noritsu QSS-3704 HDs to deliver graduation photography prints
http://swpp.co.uk/news/2013/Ede-and-Ravenscroft-choose-Noritsu-QSS3704-HDs-to-deliver-graduation-photography-prints.htm

On Top of the World
http://swpp.co.uk/news/2013/On-Top-of-the-World.htm

End of the line for the Hasselblad V System
http://swpp.co.uk/news/2013/End-of-the-line-for-the-Hasselblad-V-System.htm

Springtime Competition Winners Announced
http://swpp.co.uk/news/2013/Springtime-Competition-Winners-Announced.htm

ILFORD "Orion" Paper - Seventy Years Old and Still Going Strong!
http://swpp.co.uk/news/2013/ILFORD-Orion-Paper--Seventy-Years-Old-and-Still-Going-Strong.htm

FESPA 2013: Innova Art and BMG have everything covered
http://swpp.co.uk/news/2013/FESPA-2013-Innova-Art-and-BMG-have-everything-covered.htm
---

We are happy to announce the winners of the 'Springtime Photography' competition.
1st place
http://sinwp.com/spring_comp13/entries-9.htm
2nd place
http://sinwp.com/spring_comp13/entries-10.htm
3rd place
http://sinwp.com/spring_comp13/entries-11.htm
Highly Commended http://sinwp.com/spring_comp13/entries-12.htm
Monthly Competition
April's Monthly Image Competition closes tomorrow May 2nd, get your entries in today.
For more information on entering the competition please see the forum https://thesocieties.net/forum/index.php/topic,21861.0.html

Six Headshots in Sixty Minutes

Regardless of your style of photography, your ability to perform a headshot in the minimum amount of time, with the minimum amount of fuss, whilst maintaining professional results, is an essential skill for all photographers, especially those involved in fashion, corporate, and magazine editorial images.

County Galway Ireland - 12 May
County Cork Ireland - 13 May
County Dublin Ireland - 14 May
Members €80 non members €120
http://swpp.co.uk/seminars/Carville6432.htm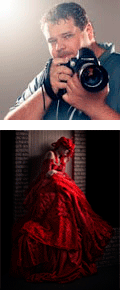 Frank Doorhof UK Tour 2013 - EarlyBird Special Extended for Societies Members
Frank is regarded as one of the top lighting instructors in the world at the moment and his workshops are without any doubt filled with information for both the beginner and professional photographer alike, so you don't want to miss this unique chance to see both Frank and his stylist Nadine work their magic in some of the most stunning locations in the UK.
The workshops will be a mix of location shooting, seminar and Q&A and are limited to 19 people. The venues have been specially selected to provide a range of locations both indoors and out to give a variety of looks, regardless of the weather. Nadine, Franks model and stylist will be on hand throughout the day.
The EarlyBird Special of £149 has been extended for members of The Societies until Friday 10th May. To take advantage of this special offer, please use discount code "SWPPFRANK" when booking this course.
http://www.theflashcentre.com/frank-doorhof-uk-tour-2013-c529.html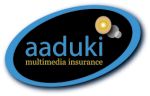 Do I really need Employers Liability Insurance and what happens if I don't have it?

Employers Liability insurance (EL) is the most misunderstood cover that is available for the photographer today, so confusing are the rules and regulations that surround it even the Government are not sure! However, don't let that put you off, as the Health and Safety Executive (HSE) would be quick enough to prosecute you if they thought you should have it and you didn't and there was an accident with someone who was assisting you.
Continue reading: http://swpp.co.uk/insurance/employers-liability.htm
Exclusive price for The Societies members http://www.aaduki.com/