A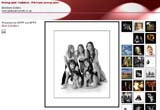 re you missing your FREE advertising opportunity?
Hundreds of members have already taken advantage of our online photographic exhibition. To get yours all you need to do is send in 15-30 jpegs to phil@swpp.co.uk at 400 pixels wide.
The Ideal Viewing Room

Increase your portrait sales by having a designated room to sell your portraits.

Quick tips of how to increase your sales for pro photographers

http://tiny.cc/flml3

Canon Speedliting Workshops 2010
Rick Friedman will mix live demonstrations with multi-media presentations.

1st September - The Flash Centre, London - Almost Full
2nd September - Park Cameras, Burgess Hill
3rd September - London Camera Exchange, Southampton
6th September - Walters Photo Video, Caerphilly
7th September - The Flash Centre, Birmingham
8th September - Wilkinson Cameras - Southport
9th September - Calumet, Manchester - BOTH SESSIONS FULL
10th September - The Flash Centre, Leeds - MORNING SESSION FULL
13th September - Fixation UK, London - MORNING SESSION FULL
Cost: £30 per session, per person.
See the website for more details
http://swpp.co.uk/seminar_files/canon_speedliting_workshops.htm
Members Training Days - September 2010
05 September Dublin - Mike Orr
05 September Dublin - Kevin Casha
06 September Ballymena - Kevin Casha
08 September Limerick - Kevin Casha
15 September Perth - John Denton
16 September Glasgow - John Denton
20 September Great Missenden - Stewart Randall
21 September North West - Michael Turner
22 September West Midlands - Stewart Randall
27 September East Anglia - James Howard
29 September Bath - Marko Dutka
30 September South East - James Howard
Each day is split into two sessions.
For more information on the days please see: http://swpp.co.uk/seminar_files/members_training_days.htm
My Bride Would Never Do That! (Full-Day Seminar) by Doug Gordon

Monday 10 January 10:00-16:00

This is a brand new program which Doug put together to get straight to the core! See Doug's camera techniques, his light, his compositions, his 'Posed…but Look natural' methods and also how he shoots for the perfect storybook Album . Most importantly he will explain his 'on the job' finishing techniques, This class is a must for any professional. See the process from beginning to end from one of the most successful and influential photographers in the world.

Members £80 Non Members £90 (Per Person)

http://swpp.co.uk/convention/programmes-11/doug_gordon.htm
Book Clearout
More great tutorial books on offer. We have been going through our bookshelves and come across some interesting and educational titles.
https://thesocieties.net/forum/index.php/topic,14757.0.html
https://thesocieties.net/forum/index.php/topic,14533.0.html
Kata Digital Waist Pack 495
Sale - £39 inc 1st class recorded post
https://thesocieties.net/forum/index.php/topic,14833.0.html

Kata DR-465i Digital Rucksack
Sale - £48.50 inc 1st class recorded post
https://thesocieties.net/forum/index.php/topic,14839.0.htmls

Giottos Rocket Air
Sale - £5 inc 1st class post
https://thesocieties.net/forum/index.php/topic,14786.0.html

Gepe Card Safe Extreme
Sale - £5 inc 1st class post
https://thesocieties.net/forum/index.php/topic,14730.0.html
The Societies Collection Book 2008
£10 inc 1st class post
https://thesocieties.net/forum/index.php/topic,13336.0.html