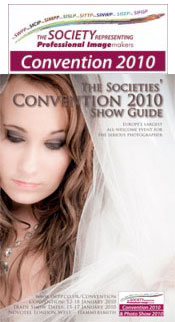 The Societies 2010 Photographic Convention - 5 Days to go!
Convention: 12-18 January 2010 - Trade Show Dates: 15-17 January 2010
Novotel London West – Hammersmith
1 week to go before the doors open!
Register for Free Entry Now - Make your way to Europe's leading event dedicated to the professional photographers.

Entrance to the 2010 Convention is open to members and non-members alike. With literally hundreds of deals on all the latest professional photographic technology under one roof - there is no better time to See, Try and Buy!

Keep an eye on the website for the latest details.
Hurry last chance for free Entry tickets!
Trade show highlights Jan 15-17:
300 Seat lecture Area; Attendees are able to attend FREE lectures by many of the leading lectures in the photographic industry over the three day Trade Show. Subjects cover such topics as: Portraiture, Marketing, Adobe Photoshop, Digital Imaging, Landscapes, Architecture, Weddings, Fashion, Events, Lighting and much more...
Meet 200+ plus exhibitors - All the important players within the industry are exhibiting at this all-welcome event, so meet the key personnel who can help you.
Exclusive 2010 Convention discount vouchers and deals.
http://swpp.co.uk/convention/trade_show_deals.htm
BOOK NOW! http://swpp.co.uk/convention/
Over 350 hours of Masterclasses to choose from, over four days!
The Masterclass programme is a veritable 'who's-who' in the photographic industry, with 350 hours of solid lectures on a wide range of photographic subjects.
Four Day Full Pass: Members £90 Non-members £100
Individual Day Pass: Members £45 Non-members £50
BOOK NOW! http://swpp.co.uk/convention/
Who Will Win the Photographer of the Year 09?
The Winners for 2009 will be announced Sunday Jan 17 at our
Photographer of the Year Awards dinner.
Weekly Forum Photographic Competitions
This Weeks Forum Competitions are now open:
Wedding Week 1 - Winter Weddings
General Week 1 - White
Voting has started for the Members Choice Photographer of the Year:
Members Choice Wedding Photographer of the Year - Voting
Members Choice General Photographer of the Year - Voting
EXTRA Winners - Your Best Wedding Image of 2009 (Wedding)
EXTRA winners - Your Best Image of 2009 (General)
https://thesocieties.net/forum/ for more information.