Results are out! - Gold Awards Announced
We are pleased to announce the results of the February 2015 Monthly Image Competition.

Over 1,400 images were entered in to February's competition and 52 photographs were awarded a Gold award.

Check out the winners!
http://swpp.co.uk/image_competition-2015/Feb/

Judges Choice Award - sponsored by Light Blue Software, Colorworld Imaging and Datacolor http://swpp.co.uk/image_competition-2015/Feb/

The Societies are pleased to launch March's Photographic Competitions.

Entries are invited from everyone who is interested in photography.
Street Stories
http://sittp.com/str-st/

Great Outdoors
http://sinwp.com/gre/

Product Photography
http://sicip.net/pro/

Latest News From the Photographic Industry
Nikons New COOLPIX P900

Nikons New DXFormat D7200 DSLR

Bowens plans biggest ever show presence at TPS

Panasonics 4K Themed Stand Set To Impress At The Photography Show 2015

Datacolor confirm Spring Promotion

We have many benefits of membership, one of these being our invaluable 'Mentor Me' programme through which you receive a one to one appraisal of your work and advice for progression. Once you are a member, all reports include recommendations for participation in training programmes pertinent to your professional development and it doesn't just stop at reaching your Licentiateship. In fact, that is only the beginning on a journey of life. A great opportunity to have help from leading practitioners in the photographic industry.

Why struggle when help is at hand? Our Mentoring team are here to give you first class advice on your imagery and help you to create the very best images for your clients and lead to qualifications.

Members are requested to complete our online form for mentoring. Once completed you will be directed to our MailBigFile upload facility, this will substantially speed up uploads for our members.
Remember to save the files as jpgs
Number 01 - 20
2000 pixels on the longest side
Create a contact sheet with all 20 images
Compress all the files into one zip folder
Please then rename the zip file
YourName_MembershipNumber_qualification/mentoring
i.e John_Jones_12345_mentoring.zip

Join any 2 of the Societies for £99 and you will receive 18 months membership for the price of 12.
Top Reasons to Join The Societies
Professional Imagemaker Magazine
Joint Membership with WPPI
Online Photographic Forum
Mentor Me Programme
Reduced Insurance Rates
Free Listing on our Website
Monthly Image Competition
Qualifications by Submission of Work
Reduced Rate Merchant Service Facilities
Trade Sponsored Promotions for Members
Discounts on Annual Convention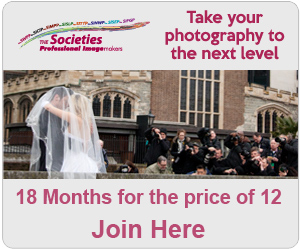 Online Forum
The Societies Forum has been moved to https://thesocieties.net/forum/

If you have lost your login details, please use the password reminder system, using your email address: https://thesocieties.net/forum/index.php?action=reminder or you can now login via Facebook, Twitter and Google

Whatever stage you are at in your career, forum membership gives you the opportunity to be at the forefront of knowledge sharing and best practice thinking, keep up to date with current photo issues, debate with experts in specialist areas, network with other photographers and add to your continuous professional development.
Hot Topics
Terms & Condition Samples
https://thesocieties.net/forum/index.php/
topic,507.0/topicseen.html

Wedding Week 6 - The Cutting of the Cake - Winners
https://thesocieties.net/forum/index.php/
topic,36077.0/topicseen.htm l

How much can one couple cram into one day?
https://thesocieties.net/forum/index.php/
topic,36061.0/topicseen.html