The Societies 2012 Photographic Convention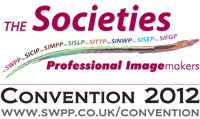 The Societies Convention celebrates it's 10th anniversary in 2012 so if you want to raise your photographic game, meet fellow professional photographers, see the latest information on photography, business and technology then this event is a must.
The schedule for the 2012 Convention is now available online.
The Platinum Awards - 20x16" Print Competition 2012
Early Bird Offer – 4 prints for the price of 3! Get your entries in before 1 September 2011 quoting 'earlyoffer'
Enter the 20x16" (50.8 cm x 40.6 cm) Competition – merited images will be displayed for 13,000 Enter the 20x16" (50.8 cm x 40.6 cm) Competition – merited images will be displayed for 13,000 visitors to view in the Convention Exhibition Area. The judging process is held in public so photographers can watch the assessment process, this in itself is an invaluable learning process. The winner will be announced at our prestigious Awards Night at the 2012 Convention
Download your application form here:
http://swpp.co.uk/convention/20x16-form.pdf
The Society Forum
This weeks forum competitions are now open:
Wedding Week 20 - The Wedding Cars
General Week 20 - The Eyes Have It

Wedding Voting Week 19 - Something Borrowed
General Voting Week 19 - Dramatic Landscape
Wedding Winners Week 18 - Nerves
General Winners Week 18 - Raw Emotion
New to the Forum?
We all know it can be a little daunting to post on a busy Forum for the first time, so we have created a special section where you can just say hello. https://thesocieties.net/forum/index.php/topic,1216.0.html
https://thesocieties.net/forum/ for more information.
Topics only viewable to registered logged on members
The Lighting Bundle Deal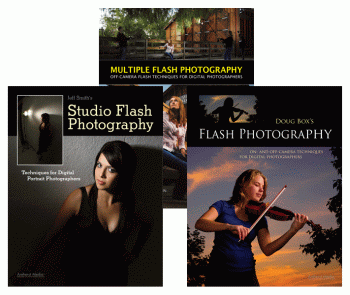 Jeff Smith's Studio Flash Photography
With a practical approach to the art and business of professional photography, this handbook shows how to use lighting more effectively, efficiently, and economically.

Multiple Flash Photography
Photographers of all experience levels can now avoid time-consuming postproduction image editing with the multiflash techniques provided in this guide.

Doug Box's Flash Photography
Offering an in-depth look at the camera controls that come into play when using an off-camera flash—including radio slave, optical triggers, wired flash communication, and more.

Usually £15 Each Special Price £40

http://thesocieties.net/store/index.php?main_page=product_info&cPath=1&products_id=479
Members Training Days
6 June, Great Missenden - Weddings
7 June, Newbury - Weddings
22 June, Rothley - Weddings
27 June, - Great Missenden - Commercial
30 June, - Bath - Foundation Level
Each day is split into two sessions.
Cost: £40 per session/£80 Full-Day per person
For more information on the days please see: http://swpp.co.uk/seminar_files/members_training_days.htm