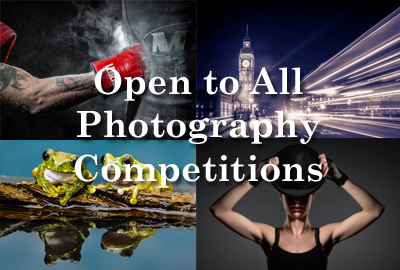 May open to all photography competitions
Living Planet Photography Competition

The theme of this month's competition is Living Planet. We all have one thing in common whether it be a bird or a killer whale. We all live in the same place - Planet Earth.
http://sinwp.com/liv/

On the Ball Photography Competition

Any image that depicts this lively theme of any sport may be entered and must show the all important decisive moment.
http://sislp.com/on/

World in Motion Photography Competition

The images should depict people and movement of any kind. Whatever gets someone from a to b is welcome in this worldwide competition.
http://sittp.com/wor/

Fashionable Photography Competition

The theme of this competition is fashion and can feature either male or female stylish images.
http://sifgp.com/fas/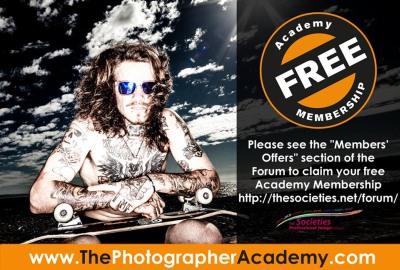 Don't forget as a member of The Societies you can claim 1 years FREE Academy membership with The Photographer Academy.
The Photographer Academy is Europe's largest online photographer training website, providing video content that captures real photographers at work, with real client shoots or in training films, they pass their skills on to other photographers.

In addition to the video content, there is also the Academy qualifications programme, plus monthly webinars and photo critiques.
Members of The Societies can join The Photographer Academy at these exclusive rates.

Academy - FREE* for 1 year (saving £49)
Academy Pro - £69* (saving £30)
Academy Business - £99* (saving £100)
Please see the "Members' Offers" section of the Forum for more details. https://thesocieties.net/forum/

£30 Convention Voucher
When joining either Professional or Enthusiast membership not only will be able to purchase tickets at the member's discounted price, you will also receive a £30 complimentary 2016 Convention voucher to use against any ticket.
How's that for an incentive to join?

http://thesocieties.net/join/

Recently uploaded archived articles
Rolling with the Big Dog - Olympus OM-D E-M5

Stuart Wood - Lighting Masterclass

Denton in Vegas

Clowning Around - Alistair Campbell

Meet the Judges
Getting Started in Business as a photographer

Latest photographic news
Missing a shot is NOT an option with the AGUA
New Kuangren KX800 macro twin Light

Panasonics New LUMIX DMCG7 camera

Throw and shoot Lily Camera drone flies itself

Photomart Signs Distribution Deal With Sinfonia Technology Co Ltd

The FUJIFILM XT10 a stunning addition to the X series
http://swpp.co.uk/news/2015/index.htm

We have many benefits of membership, one of these being our invaluable 'Mentor Me' programme through which you receive a one to one appraisal of your work and advice for progression. Once you are a member, all reports include recommendations for participation in training programmes pertinent to your professional development and it doesn't just stop at reaching your Licentiateship. In fact, that is only the beginning on a journey of life. A great opportunity to have help from leading practitioners in the photographic industry.

Why struggle when help is at hand? Our Mentoring team are here to give you first class advice on your imagery and help you to create the very best images for your clients and lead to qualifications.

Members are requested to complete our online form for mentoring. Once completed you will be directed to our MailBigFile upload facility, this will substantially speed up uploads for our members.
Remember to save the files as jpgs
Number 01 - 20
2000 pixels on the longest side
Create a contact sheet with all 20 images
Compress all the files into one zip folder
Please then rename the zip file
YourName_MembershipNumber_qualification/mentoring
i.e John_Jones_12345_mentoring.zip