Cheshire
Sarah Anne Dunwood
Sarah Dunwood Photography
6 Whitworth Close
Warrington
Cheshire
WA3 6PY

England
tel:- +44 7799 630 853
web address:-
www.sarahdunwoodphotography.co.uk/
facebook:-
Sarah Dunwood Photography
twitter:-

follow Sarah Dunwood Photography
Instagram:-
sarahdunwood
Specialist Photographer for :-
Children
Portrait photography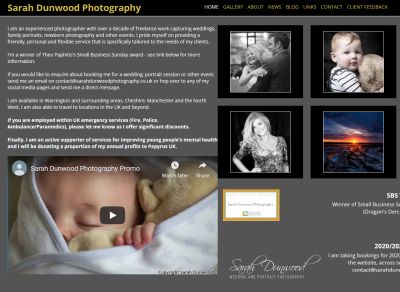 Type business: Full Time Professional Photographer
My photographic style: My photography style is flexible, creative and with a focus on capturing the essence/personality of the people I'm working with. I love candid / reportage style of photography, but equally I'm confident about more formal processes, including headshots with artificial lighting and more traditional wedding group shots.
My greatest strengths: I'm consistently seeking to develop my skills, so I'm not complacent about my photography work. I'm confident working with people of all ages and personalities, having spent a significant number of years being a teacher and senior leader in high schools, alongside my photography work. I'm a problem solver, so when faced with challenges with a planned shoot, I'm able to think about solutions and quickly respond.
I have been in photography: I've been a photographer since my teens as a hobbyist/amateur, but started to engage in freelance photography work in 2006, alongside a full time role as a senior leader in a high school.
How I got started in photography: My Dad was brave enough to allow me to use his Olympus OM10 SLR to learn with, under his guidance, in my early teens. I wanted to learn in order to get on the other side of the camera, and my preference to be behind the lens has remained ever since. My first official wedding assignment was in 2006 and was actually my Dad's wedding, so the pressure to get it absolutely spot on was high - a baptism of fire! Since then, I've invested in my own equipment, including multiple Canon cameras, continuous lighting set ups, off camera flash and other equipment that enable me to create studio conditions in different locations.
My photographic skills: Portraits, particularly newborns, children and families.
Weddings, including traditional and candid styles of photography.
Strong eye for composition and consistently looking for moments and interactions to capture.
Effective communicator and able to build rapport with clients (and guests/wider audiences at events)
Skilled in processing techniques, including retouching where needed.
My personality: I'm confident, but in a quiet way. I don't see my photography as being about me - if I've been successful in a shoot, then the client is front and centre, during the shoot and in the images that I produce for them.
I'm a born helper - I often find myself helping out with things at weddings and making sure that I contribute to the day running smoothly for the clients.
Having been a teacher for two decades as well, I am a problem solver, confident in a variety of different situations, effective and organised in terms of planning and implementing projects and I'm resilient. Not much phases me!
I'm friendly, professional, honest and realistic. I will offer advice and I am always honest with clients about whether I can meet their expectations.
Geographic areas I cover: Based in the North West of the UK but I am happy to travel within the UK and Ireland currently.
Venues I frequently attend: I love venues that have a particular connection for me. For instance, the Hallmark Hotel (Fir Grove) in Warrington where I got married. I love venues that are set within grounds that provide lots of different settings for photos with clients. The Shap Wells hotel in the Lake District and Cranage Hall in Holmes Chapel are fantastic venues set within grounds that have such flexibility for photography. Spirit Restaurant in Warrington is a lovely venue for more intimate/smaller weddings, again set in grounds that allow for wonderful outdoor photos as well as indoor spaces for when the weather isn't ideal.
I found inspiration from: My initial inspiration for photography came from my Dad and his passion for photography. There were many books of David Bailey's work in our home and I particularly liked the black and white images I saw in those books.
As I've developed my photography work as an adult, I am consistently drawn back to the work of Rankin, particularly his "Alive: In the Face of Death" portraits and documentary.
Similarly, the work of Anton Corbijn has been ever present in my life, as he has been the filmmaker and photographer for so much of the work of Depeche Mode, who I absolutely adore.
I think that my photographic influences have impacted on my own preferences for how I process my images and I do have a leaning towards black and white presentation.
I am also inspired by one of my friends who is now a successful independent photographer - Lisa Derevycka. I kept a photo blog on Blipfoto.com for 8 years, which she followed and she tells me that this inspired her to become a photographer. Her progress and success has inspired me to invest my heart and soul into photography full time, as it is the thing that I love doing.
Success in photography: I have had a number of my images shown on the BBC Sky at Night - I taught myself how to utilise my telescope as an extension of my camera in order to capture detailed shots of the moon and other elements of the night sky. I was particularly proud to have spoken with Sir Patrick Moore about one of those images.
I'm just beginning to dip my toe into online photography competitions and I'm getting positive feedback in these. One of my images was selected as a finalist in a portrait competition (in the top 30 out of 25000+ images).
Now I have joined the Societies, I plan to engage with the Mentor Me program in order to progress through to Licentiateship.
I recently won Theo Paphitis's Small Business Sunday award on Twitter.
Photographic training: Self taught, through engagement with other photographers, photography forums, photography literature and online training materials.
My interests outside photography: I'm learning to play the drums!
I love to write - blogging is something that I spend time doing, usually privately, although I do sometimes share my thoughts via my website or my different social media accounts.
I am an advocate for mental health awareness and volunteer for PAPYRUS UK (a charity focussed on the prevention of young suicide). I am also an advocate for awareness about endometriosis, chronic pain, fibromyalgia and menopause awareness and use my platforms on social media to engage with charities and key voices to share information.
Major events: I've made a major career change in my mid forties, moving from teaching as a full time career and photography as a freelance addition, to making photography my full time career. There were many reasons for this, not least that photography is my passion, but also the focus on creativity and engaging with a range of people from all walks of life has made a genuinely life changing difference to my mental and physical health. Additionally, the flexibility of photography as a career has meant that I can spend time with my family, visiting my son now he has left home and seeing more of my siblings and their young families (with the camera ever present!)
Testimonials:
"Fabulous photographer! Sarah is great at capturing those moments. I would totally recommend her as part of your special day."
Sarah Smith, bride.
"Sarah very kindly volunteered her time to take photos for our charity at the "Punching for PAPYRUS" event in the Golden Square. She worked incredibly hard for over four hours and took amazing pictures. She has a real eye for capturing the excitement and bustle of an event. There are fantastic photos of the boxers and the crowds. We'd recommend Sarah for small and large-scale events, private or corporate functions. We're proud to have her as part of the PAPYRUS family"
PAPYRUS UK
"Sarah took some photos of me performing at Halifax Piece Hall and the photos were excellent. As a professional performer I'm always looking out for new promotional photos which capture the natural and unique moments of the performance and the reactions of the audience. Sarah's photos did this brilliantly. I would highly recommend Sarah"
Matt Pang, Professional Performance Artist.
"Sarah has a unique ability to capture amazing beauty in the seemingly normal. She is an absolute professional and so easy to communicate with, I would highly recommend her for all your photography needs."
Tina Keogh, client
"An incredible eye for detail and the ability to capture images often unseen by most, Sarah is the consummate professional who brings a sense of fun and artistic flair to any shoot. Booking Sarah for your corporate or personal photo needs will not disappoint."
Nancy Newton
"I have known Sarah for many years, in fact it was she who encouraged me to take up photography. Over the years she has proved herself to be an excellent photographer and has produced images in a variety of fields. Eight years ago Sarah undertook to shoot a portfolio of my first grandchild, her first attempt with such a subject. She quickly established a rapport with the eight month old and produced an excellent set of photographs. The parents, grandparents and great grandparents all proudly displayed one or more of Sarah's striking monochrome shots. Sarah has also taken 'candid ' shots of people, one of which was of a local artist shot during a social event. The artist declared it to be the best photograph ever taken if himself and he uses it in his publicity. In recent years Sarah has also produced outstanding landscapes, moonscapes and images of the night sky. At Christmas five years ago I purchased several of these photographs as gifts for friends and family including four sunset images and two of the night sky featuring the constellation Orion, all of which were very well received. In conclusion I have no hesitation in recommending Sarah to any one requiring photographs which will be very high standard taken by a very professional, warm and unflappable lady."
Mr. K. Goldsbrough, client
"Very professional but personable service. Reliable and friendly. Thank you for the pictures x"
S Ahmed, client
"Lovely and unusual wedding pictures"
G Kendall, sister of the bride
"Sarah took some photos for my party band a few years ago and we're still so pleased with them! She's imaginative and artistic so she got some great action shots that are really striking and have had lots of compliments. She used the stage lights and smoke from the smoke machine to get some exciting colours and silhouettes. She's also a lovely person, really friendly and professional and was very quick to edit and send the images. Thanks again Sarah, we love them!"
A Baur (Monstaball / Paloza)
"I have known Sarah since her school days. She is a lovely, friendly person and has a passion for creating fabulous photographs for many years with different genres. I would have no hesitation in recommending Sarah for your photographs"
Jackie Brooks, Bespoked Wedding Cars
"Sarah has taken many wonderful photos of my babies (now children). She has a fantastic skill for capturing the funny and beautiful moments. I would certainly recommend her talents for any occasion."
Faye Hebdon, client
"Sarah is a wonderful photographer - professional, fun and with inspirational ideas. You can expect super results as she adapts her style to the occasion and your needs."
Stephanie Birnstiel.
Sarah has done pictures for me at performances that I have done as a drag artist. She captures the most significant moments which truly reflect what I was trying to convey. Great eye for detail and great shots produced. I'd highly recommend her for any occasion!!!
Rhys Roberts, Drag Artist
Sarah took some photographs of one of our shows a couple of years ago. It is always extremely difficult to photograph Musical Theatre, particularly all the dancing, but Sarah captured some fabulous moments, bringing them to life in her photographs as much as they were on the stage. AMAZINGLY talented photographer.
Lisa Parker, Performer/Choreographer
Sarah has managed to take an inanimate object and bring it to life using her exceptional photographic skills. Projecting the depth of colour and capturing the light as you would truly see it with your own eyes. Can highly recommend.
Heidi Wyatt, Owner of The Bottle Bin (Small Business)
Sarah photographed our wedding 7 years ago. She did an amazing job capturing the most incredible moments from our special day. Her calm and friendly approach put us all at ease and the mix of formal and informal pictures she took throughout the day will be treasured forever. Thanks Sarah
Jenny Woodhouse, Bride
5 star plus. We had the pleasure of Sarah taking our Wedding pictures. Everyone commented on how lovely she was and so very easy to work with. Her photographs were a mix of posed and candid pictures that were beautifully edited. She really captured some special moments that is a joy to look through and reminisce about our special day. I wouldn't hesitate to recommend Sarah and her fantastic skills as a photographer.
Fay Turner, Bride
Why I like the SWPP: The support and range of resources from the societies is excellent. I'm particularly looking forward to attending the convention in January 2020!
Tagline: Moments into Memories.
Future plans: I intend to work through the SWPP qualifications, with support via the Mentor Me program.
Additionally, in terms of my business, I am looking to expand my corporate work (headshots and portraits for corporate literature) and to work my way towards photography at live music events, alongside wedding and existing portrait work. Ultimately, I would like to have the flexibility to be able to set up a small studio where clients could come to me if they preferred, although I do love to travel to different locations.
Sarah is also a member of
SISLP
Sarah is also a member of
SINWP
This person is also a member of
SIMPP
Babies
Baptisms
Christenings
Youth culture
People photography
Lifestyle images
Senior portraits
Pets
Nursery Photos images
Pregnancy photos
Family Groups
Environmental portraits
Home portraits
Head shots
Friendly And Personable Professional Photographer
Full time professional
Freelance photographer
Fast service
Paypal accepted
Other wedding photographic services
Wedding Traditional
Wedding Contemporary
Wedding Photojournalism
Civil Religious weddings
Storybook wedding
Multicultural wedding services
Humanist Weddings
Destination Weddings
Engagements
Civil partnerships
Online proofing service
Providing elegant and timeless photography services
More Photographers around Cheshire
Photographers in Warrington
The Societies of Photographers Convention and Trade Show at The Novotel London West, Hammersmith ...
You have 178 days until The Societies of Photographers Convention starting on Wednesday 16th March 2022 .