The Societies' at Focus on Imaging 2011 - Stand: H30

Again this year at Focus On Imaging, The Societies will be putting on a rolling programme of seminars, open to member and non-members alike. If your ready to take the next step with your photography come and get some expert advise.
Live Demos - Seminar Schedule:
Sunday 6th March 2011
Monday 7th March 2011
Tuesday 8th March 2011
Wednesday 9th March 2011
For more information, please visit: http://swpp.co.uk/seminar_files/focus11.htm
Art P Suwansang Tour 2011
Open to members and non-members.

Lightroom Guru, Art P Suwansang will be touring the UK and Ireland in March to deliver his world renowned seminar on Lightroom
City and Dates Sunday 13th March - Dublin
Tuesday 15th March - Glasgow
Wednesday 16th March - Stockport
Thursday 17th March - Coventry
Friday 18th March - Newbury
Saturday 19th March - Watford
Monday 21st March - Burgess Hill
Sessions:
Lightroom: Embrace the Modern Digital Workflow (09:00-13:00) Morning Session
Get Creative Fast with Lightroom (13:30-17:30) Afternoon Session
Further details can be found at: http://swpp.co.uk/seminar_files/art_p_suwansang_tour_2011.htm
30 March, Perth - Boudoir
31 March, Glasgow - Wedding
4 May, Newbury - DSLR Video
5 May, Burn Hall, York - Weddings
6 May, Wednesbury - Commercial
9 May, Leamington Spa - Lighting and Posing
10 May, Barnsley - Lighting and Posing
12 May, Port Talbot - Portraits
18 May, Leicester - Weddings
19 May, Malvern - Weddings
6 June, Great Missenden - Weddings
7 June, Newbury - Weddings
27 June, - Great Missenden - Commercial
Each day is split into two sessions.
Join today to take advantage of this exclusive benefit of membership!
For more information on the days please see: http://swpp.co.uk/seminar_files/members_training_days.htm
Warehouse Video - The UK's leading supplier of Presentation DVD/CD Cases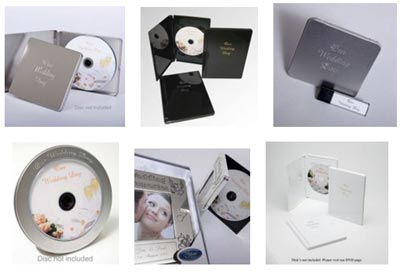 No Vat Increase on Most of our Products

We are delighted to announce many more additions to our website alongside our usual Disc Presentation Cases and accessories, just part of our extensive range of fantastic products for weddings, corporate events or just simply for personal use.

Please check out some of our new additions. See the website
warehouse-video.co.uk or call for more information on 01753 689400.

Plus All Our Popular Existing Cases and Accessories On Our Website

Warehouse Video Services, Burnside, Horton Road, Staines, TW19 6BQ
01753 689400 tel 01753 689401 fax 07774 125615 mobile
Website warehouse-video.co.uk Email greg@warehouse-video.co.uk