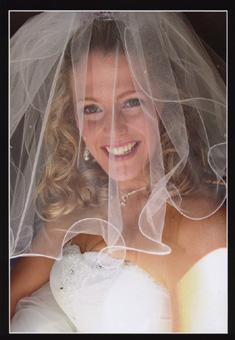 Here are a number of suggestions for pictures. Please check off those You desire, plus fill in special requests you may have. This list helps guide the Photographer in making pictures. Usual shots are shown in bold type
At The House
Mother Adjusting Veil
Bride Putting On Garter With Bridesmaids Looking On
Bride In Dressing Room With Mirror
Bride Pinning Corsage On Mother
Bride Pinning Flower On Father
Flower Girl Handing Bouquet To Bride
Portrait of Mother and Bride
Father and Bride
Brothers and Sisters and Bride
Bride Leaving House
Father Helping Bride Into Car
At The Church
Groom and Groomsmen
Groom With Best Man
Best Man Adjusting Groom's Tie
Groom and Best Man Checking Their Watches
Groom With Best Man and Minister
Groom and Best Man Looking At Wedding Rings
Signing Marriage Certificate
Bride and Bridesmaids In Vestibule
Bride's Mother On Usher's Arm
Other People Being Accompanied Down Aisle
During The Ceremony
Bride Being Taken Down Aisle By Father
Father Giving Away Bride
Shots During The Ceremony Itself
Time Exposure of Overall Area During Ceremony
After The Ceremony At Church
Bride and Groom Coming Down The Aisle
Groom Kissing Bride At The Altar (Set Up)
Groom Putting Ring On Bride's Finger (Set Up)
Receiving The Ring After Ceremony
Bride and Groom On The Steps of Church
Getting Into Car Or Limo
Shot While Seated In Limo
Mood Shots In and Around The Church Or Wedding Area Grounds
Bridal Party
Bridal Party With Brides Parents
Bridal Party With Grooms Parents
Bridal Party Grandparents
Bridal Party Brothers and Sisters
Bridal Party Uncles and Aunties
Bridal Party With Friends
Bridal Party With All Brides Family
Bridal Party With All of Grooms Family

Between The Ceremony and The Reception
Outdoor Shots of Bride and Groom
Outdoor Shots of Wedding Party
Shots of Groom and Best Man
Shots of Bride and Maid of Honour
Suggested Location For Outdoor Shots
At The Reception
Receiving Line
Wedding Cake (Prior To Being Cut)
Guests Signing Book
Introduction of The Wedding Party
Wedding Party Toasting Bride and Groom
Bride and Groom Toasting Each Other
Dances. Bride and Father
Groom and Mother
Bride and Groom First Dance
Bride Showing Rings To Bridesmaids
General Dancing Shots
Candid's of Wedding Party
Flower Girl and Ring Bearer Together
Group Family Portraits (Please Be Specific)
Table Shots
Bride Throwing Bouquet
Groom and Garter
Cutting The Cake
Bride and Groom Feeding Cake To Each Other
Bride and Groom's Hands With Rings On
Special Requests
These are some of the suggested shots.
Post by Phil Jones
Wedding Trivia: STAG PARTIES
In Sparta, during the height of Greek civilization, soldiers were the first to hold stag parties. The groom would have a party for his friends the night before he was to marry. He would bid farewell to his bachelorhood and pledge his continued allegiance to his comrades.