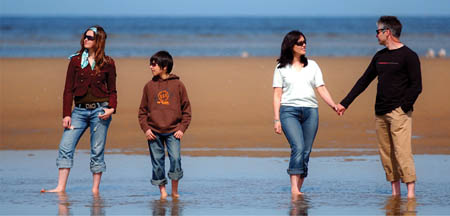 With multiple subjects in the portrait, it is especially important to dress in the same colour and style to capture your relationship and harmonise. For a traditional family portrait, we recommend long sleeved, solid coloured outfits in medium to dark tones. Keep in mind the eye will be drawn to the lightest colour in the portrait, so you may wish to maintain a colour harmony to avoid any unnecessary distractions.
Maybe your family shares a common interest and would like to capture it. Or, perhaps you may want to dress for comfort with khakis and denim. The outfits you choose are important, however, the fact that you are taking the opportunity to capture your family together in a portrait is very much more important.
Multi-generation portraits are an excellent way to include extended family members in your immediate family sessions. Not only will your portraits feature children and parents, but also grandchildren, grandparents, in-laws, and all of those special people who make your family so special. This is true especially when you record your family history. Don't forget a family reunion is a perfect time to create these portraits, as well as birthdays, baptisms, confirmations, graduations, etc.
Maternity portraits are not just about mom and baby. This session is about your family, and can be very special when you include dad, your other children and grandparents. These special portraits can be even more meaningful when they are created in your home. This is a wonderful opportunity to create timeless works of art for your child's nursery, your family room or as keepsakes for family members.
Outdoor portraiture can be exceptionally beautiful, especially if you have a location which is extra special to your family. It is important to choose only one or two theme colours, with everyone wearing shades of those colours. Wear colours that you see in nature. Blues are excellent all year, while colours such as white, cream, khaki and red are great against lush green foliage. alternatively consider burgundy, brown, tan, gold and orange which are nice late in the season.
When choosing a professional photographer look for a member of the SWPP, a list of members can be found at: '
Find a Photographer Directory'