Family Portrait Photography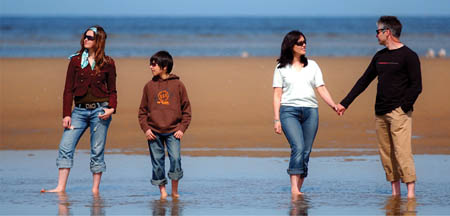 These images will demonstrate the skills of a professional photographer and why you should use an experienced photographer when you are looking for a Family Portrait Photographer.
Environmental family portraits are extremely popular, A professional photographer can create a timeless masterpiece for you to cherish forever.
Sepia toned images a technique frequently used by pro family portrait photographers adds impact to a portrait.
Low key (dark background) portraits are timeless and lit with professorial studio lighting equipment, creates a classic portrait that would grace any home.
Experienced professional photographers can encourage pleasing expressions from their clients as demonstrated in this portrait.
Portraits can be created on location, an experienced photographer who understands light can capture the ambience and create a portrait study that is timeless.
High key (white backgrounds) can produce a modern clean image that would lend itself to a portrait in any home. A professional photographer also can capture great expressions.
A toned image lit beautifully with professional studio lights create a wonderful study of mother and baby.
Professional photographers use dynamic cropping to create powerful images.
A sepia toned study closely cropped creates a powerful image
Professional photographers will create images which reflect the age and story of their subject, further enhanced with the use of black and white.
Modern closely cropped images give power and dynamics, which would look terrific in the modern home.
A slight tilt of the camera, a technique used by many professional photographers and the ability to use light creates an image that would look fantastic hung in any home.
Today's digital technology along with the professionals photographic skill produces images that are creative and modern
When choosing a professional photographer look for a member of the SWPP, a list of members can be found at: '
Find a Photographer Directory'