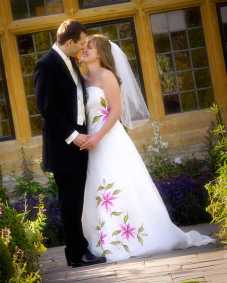 Professional photographers will tell you that the most important thing for you to do on your wedding day is - just relax and be happy. 'enjoy the day' and they will make every attempt to ensure that you do.
The trouble is, you might say, there are so many things to see to on the day and how can I relax and remember everything that happens. The answer is simple your photographer will capture those memories and even help to keep things running smoothly.
Remember, you are paying a professional - a dressmaker, a florist, a car firm, hotel staff and a photographer - to see to everything concerning your wedding arrangements and a vicar, minister or a registrar to conduct the ceremony. Professional photographers have the experienced and know all about the 'pitfalls' - so you are in good hands. So, so let them do the worrying. After all that is what you are paying us for
There are of course the preparations to make sure everything goes smoothly and these are what you are going to enjoy and no doubt are enjoying now.
It has often been said something about the joy in a journey being in the travelling rather than the arrival?
Photographers also feel it important that as many people as possible who are attending your wedding should understand what the photographer is trying to do, as they have learned that most people who attend weddings find the photographer an inconvenience and a nuisance. After all, they want to get to the reception and just get on with the merry making!
But you are paying them to do a job and they want to do it to the best of their ability, so relax and prepare to enjoy the day.
Remember the trouble with photographs is that they have to be taken, so plan into your day enough time for your photographer to create this 'special photographic memories'.
Post by Phil Jones
Wedding Trivia: GARTER AND BRIDAL BOUQUET TOSS
In parts of Europe during the 14th contrary, having a piece of the bride's clothing was thought to bring good luck. Guests would literally destroy the brides dress by ripping off pieces of fabric. In order to prevent this, brides began throwing various items to the guests - the garter belt being one of the items.In order to avoid this problem, it became customary in the 14th century for the bride to toss her garter to the men. Sometimes the men would get drunk, become impatient, and try to remove the garter ahead of time. Therefore, the custom evolved for the groom to remove and toss the garter. With that change the bride started to toss the bridal bouquet to the unwed girls of marriageable age. Tradition says that whoever catches the bouquet shall be the next to marry. She keeps the bouquet to ensure this destiny.