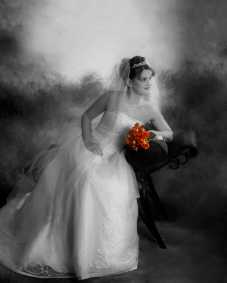 Do remember that whatever happens on your wedding day that clock never stops ticking and many people are involved with your wedding day arrangements some of whom are: vicars, registrars, choir members, videographers, car drivers, caterers - all of whom may have other weddings to deal with on the same day. So everything must run smoothly so no one will be upset.
Your photographer will discuss all the timings with you at your pre-wedding chat and will write them in on the on a sheet detailing the schedule. If your wedding is taking place at a church where they have many weddings such as a Church of England or Church in Wales the time is usually 20 minutes for the ceremony and 10 minutes for the signing the registers. In Roman Catholic churches a full hour should be near the time BUT at churches where weddings are a rare occasion, ministers tend to 'go to town' and services can be much longer,. So do check with he church though of course your photographer may well already know the answer if he or she has undertaken wedding there.
You also need to be aware that some churches where ministers will not fill in the details in the registers and marriage certificate until the ceremony is over, these can also add a great deal of time to the day. Ten minutes here and there soon erodes away at the time that you have for photographs and most of all enjoying yourself . Some photographers have mentioned that they have occasionally been in a vestry longer than the time of the ceremony itself, while the minister filled the details in two registers and the marriage certificate all of which have to be signed by four people which includes the couple and the two witnesses.
It would be a good idea to ask your minister about these timings when you see him or her to discuss the wedding arrangements and if the timings are any longer than the 30 or 60 minutes. It is well worth telling the caterers, car hire firm and of course your photographer at your pre-wedding chat.
It is absolutely essential that you also let your caters know if any possible delays, as you do not want your meal spoilt or the 'washers-up' to go home early leaving you in the soap suds.
It would certainly help if you were to make sure the principals at your wedding know about the timings and the photographs you have asked to be taken so they are all on the photographers side.
If the hotel manager or whoever becomes impatient with your photographer, the rule is to tell them that you are our bosses and have invested a great deal of money and you want your memories captured for ever! Your photographer will work as fast and efficiently as possible though he or she does need the cooperation of everyone, though more about that later.



Wedding Trivia: RICE THROWING
Rice has been used as a symbol of fertility and as a wish for a "full pantry" in various parts of the world from ancient to modern times. In the past, rice was not the only thing thrown at the bride and groom as the left the wedding. Wheat, instead of rice, was thrown in France, figs and dates were thrown in Northern Africa, and a combination of coins, dried fruit, and candy was thrown in Italy. In some European countries eggs are thrown!Rice is not harmful to the birds that eat it, but an article in California professing this to be the case, has caused birdseed to replace rice at most weddings. Flower petals, confetti, baubles, and balloons are often used today instead of rice.