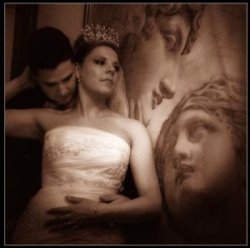 A wedding is all about romance, two people very much in love, with eyes only for each other.

Romance is essential for good wedding photography so remember to allocate enough time for your photographer to create these special person pictures for you.

A wink, a kiss, a seductive smile or even a simple touch can be the essence of romance, so do not be shy let your emotions show and you will have lasting memories of this special occasion in your life.

So remember the key elements of romance in your wedding photographs are:

Hand touching hand
Eye's looking into each other
Hand touching cheek
Touch each other in a loving way
Gaze at each other
Hold one another close
A whisper or saying something nice into the other's ear
Sharing a share private jokes
Flirt with each other
Wedding Trivia: GOOD LUCK
Seeing a lamb, frog, spider, black cat, or rainbows on the way to the ceremony is believed to be a sign of good luck!