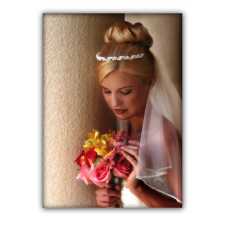 It doesn't matter where you live in the world, the weather will always play a major part in the day, even if you live in 'sunny California' or changeable 'old England', your professional photographer will be able to cope and provide you with a great set of images.
If the weather is bad, then your photographer can take your wedding photographs indoors, with their experience they can do 'alter returns' which means them using the ambient lighting with (and sometimes without) flash lighting.
Your photographer may be using a tripod, as he knows that if the camera is supported he can take any picture under any lighting conditions on any occasion. This means any guests trying to take these groups may spoil the ones your photographer is taking if their flashes compete with his. Therefore it is sometimes asked by the photographer that he is given a little space by the guests so that he can work// There will be many opportunities for your guests to capture images for themselves later. After all the are there to the end, unless their party going gets a little to much!
It is a rarity however that there will not be a window of opportunity and that your photographer will be able to take some photographers outdoors. He or she take golf umbrellas with them and by holding these over the people concerned while the groups are being arranged and whipping them away at the last second they can usually get the groups. Guests are more than welcome to help hold umbrellas and be part of the activities. If it is cold you may have problems. If your wedding is in the winter it might be a good idea to choose dresses with long sleeves for your bridesmaids, particularly if they are young ones - in which case consider also having little shawls for them, these can also look very attractive on the photographs adding a little colour.



Wedding Trivia: SOMETHING "OLD", "NEW", "BORROWED", AND "BLUE"
The tradition of carrying one or more items that are "old", "new", "borrowed" and "blue" also comes from English. There is an old English rhyme describing the practice which also mentions a sixpence in the brides shoe. Something old, signifying continuity, could be a piece of lace, jewelry, or a grandmother's handkerchief. Something new, signifying optimism in the future, could be an article of clothing or the wedding rings. Something borrowed, signifying future happiness, could be handkerchief from a happily married relative or friend. Something blue, signifying modesty, fidelity and love, comes from early Jewish history. In early Biblical times, blue not white symbolized purity. Both the bride and groom usually wore a band of blue material around the bottom of their wedding attire, hence the tradition of "something blue". Originally the sixpence was presented to the bride by her future husband as a token of his love. Today, very often, it is the bride's father who places a coin in the brides shoe prior to leaving home for the church.