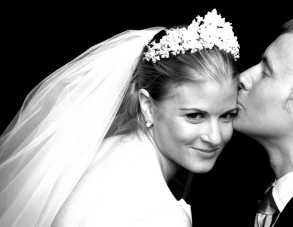 Ok so should brides be late for their 'big day'?

Well tradition says they must, however this can do nothing for the grooms nerves! Not only does the groom nervously check his watch (some have been known to take them off and shake them) but also the registrar, vicar, photographer and just about everyone else.

Some local traditions even deliberately try to slow the progress of the bride to church, as in Wales, where country weddings are renounced for 'unforeseen' obstacles between the brides home and church.

So yes while tradition is a good thing then better to be just a moment or two late, than any lengthy delay as this eats into other timings throughout the day.

After all a wedding day is a hectic time with tight schedules and lots of emotion, so stick to the clock and have a great day.



Post by Phil Jones
Wedding Trivia: VEIL
Brightly colored veils were worn in ancient times in many parts of the world and were considered a protection against evil spirits Greek and Roman brides for yellow or red veils (representing fire) to ward off evil spirits and demons. At one time, Roman brides were completely covered with a red veil for protection. In early European history, with the advent of arranged marriages veils served another purpose - to prevent the groom from seeing the brides' face till after the ceremony was over. Brides began to wear opaque yellow veils. Not only could the groom not see in, the bride could not see out! Therefore, the father of the bride had to escort her down the aisle and literally give the bride to the groom. Nellie Custis, the daughter of Martha Washington, is credited with wearing the first lace veil.