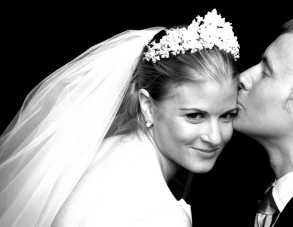 There is so much to think about - your wedding dress, the wedding cake, the wedding venue, the wedding cars, what the groom is going to wear..... yes the list is endless!
But perhaps most important of all, who is going to capture that 'special day?
Choosing a wedding photographer will involve a certain amount of leg work, however professional photographers will welcome the opportunity to talk about the 'big day' and show you examples of their work.
Wedding photographers cam also be a 'gold mine' of useful information, after all they attend many hundreds of wedding and get to know the Wedding Coordinators, Wedding Limousine Hire Companies, Wedding Venues, Churches and a great deal more.
Choosing a Wedding Photographer
Not so very long ago our grandparents called in to a professional photographer's studio immediately after their wedding ceremony to have a set of very formal photographs taken. Since those halcyon days, fashions in wedding photography has changed and photographers are always looking for new angles and ideas to keep their photography fresh and interesting.
Modern developments in technology has seen the introduction of digital imaging giving the professional photographer the opportunity to provide today's bride with a vast variety of styles and choice.
Choosing a Wedding Photographer continued...
Getting Married in England
Getting Married in Las Vegas
Yoga Retreat in Ibiza
Pink for weddings
Afternoon tea party for brides to be
Wedding Trivia: RICE THROWING
Rice has been used as a symbol of fertility and as a wish for a "full pantry" in various parts of the world from ancient to modern times. In the past, rice was not the only thing thrown at the bride and groom as the left the wedding. Wheat, instead of rice, was thrown in France, figs and dates were thrown in Northern Africa, and a combination of coins, dried fruit, and candy was thrown in Italy. In some European countries eggs are thrown!Rice is not harmful to the birds that eat it, but an article in California professing this to be the case, has caused birdseed to replace rice at most weddings. Flower petals, confetti, baubles, and balloons are often used today instead of rice.