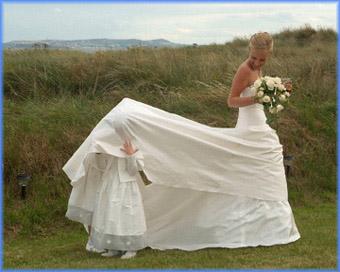 It can be hard to decide on what to put on your wedding list, after all you do not want to sound greedy or you just may be shy. However there are many of your family and friends who would love to give you something very special. So it is well worth considering a list that includes all the things that you would like. Your guests will then have the opportunity to spend as much as they can afford and knowing that they are giving you precisely what you want.
The gifts you choose will depend on what stage you are at in your life. A young couple setting up home together for the first time will want all the basics: for instance, pots and pans, china, knifes and folks, bed linen and glassware Couples getting married in their middle thirties may already own a home or have lived together for some while They are likely to have most of the basic household items they need already. In this situation, couples often ask for more luxurious items they couldn't afford themselves, like garden furniture, leather, and state-of-the-art kitchen equipment.
Here is a list to give you some ideas:
The Wedding Album
For the Home:
Kitchen:
Cutlery
Kettle
Bread Maker
Scales
Coffee Maker
Iron
Cooker
Fridge
Fridge Freezer
Pots and pans
Water Purifiers
Trays
Toaster
Ice-cream Maker
Microwave
Cheese Grater
Espresso Machine
Washing Machine
Tumble Dryer
Extractor Fan
Bar stools and bar chairs
Kitchen bins
Kitchen storage and breadbins
Kitchen tool sets
Mug trees and roll holders
Pastry Board
Cheese Board
Plate stands and drainage racks
Spice Rack
Wine racks
Knife blocks
Kitchen gadgets
Blenders and mixers
Food processors
Deep Fat Fryer
Juicers
Slow cookers and ovens
Steamers
Frying pans and woks
Roasters and casseroles

Bathroom:
Bathroom Set
Towels
Towel Rack
Magazine Stand
Soap Dispenser
Electric Shower
Mirror
Bathroom spas
Ceiling Light
Bathroom cabinets and storage units
Bathroom shelving and wall racks
Linen baskets and bags
Shower curtains and rails
Pedal bins

Personal Items
Jewelry
Watches
Cosmetics
Health Insurance
Bedroom:
Linen
Bedside lamp
Ottoman
Wardrobes
Teas- maid
Beds
Storage chests and trunks
Storage units with drawers
Underbed storage and storage bags
Hanging rails and coat hooks
Bedroom canvas storage
Electric blankets
Duvets
Throws, blankets and bedspreads
Valances
Jewellery boxes

For the Lounge:
Lamps
Coffee Table
Nest of Tables
Cushions
Three Piece Suite
Rocking Chair
Pictures
Stereo Unit
TV
Rugs
Air Purifiers
DVD Player
Satellite TV
MP3 players
Cd racks, dvd racks, video racks
Foot Stool
Wall clocks
Beanbags and beanbag covers

Dinning Room:
Dinning Table and Chairs
Display Cabinet
China
Wine Glasses and Decanter
Fruit Bowls
Silverware
Crystal
Table Mats
Every Day Table Ware
Vases
Sofabed
Futons
Bookcases and shelving
Candles and holders
Photo frames
Figurines and ornaments

Home Office
Computer or Laptop
Printer
Broadband Connection
Office furniture
Fax machines
Office shredders
Travel ideas:
Luggage
The Honeymoon
Holiday Insurance
Skin Care Products
Beach set

DIY Tools:
Drill
Hammer and screwdrivers
Electric Sander
Electric Saw
Spanners and wrenches
Ladder

For the Garden and Patio:
Garden Shed
Greenhouse
Lawn Mower
Spade and Folk
Wheelbarrow
Shrubs
Barbecue
Lanterns
Garden Furniture
Security lighting
Pressure washers
Garden power tools

Miscellaneous:
Telephones
Magazine Subscriptions
Curtain Rails
Curtain tie backs and hold backs
Curtains
Blinds
Carpets
Wines and Spirits
Rowing Machine
Vacuum Cleaner
Sewing machine
Mobile phone
Moving house packs
Shoe racks
Doorchimes or Bell
Radiator covers
Bikes and cycling
Staple and nail guns
Wallpaper and paint strippers
Chain saws
Grass trimmers
Hedge trimmers
Gazebos and garden awnings
Hammocks
Hot tubs
Arbours
Garden parasols
Cat and dog flaps
Cat beds
Dog beds
Feeders and small animal accessories
Pet accessories
Pet carriers and kennels
And did we mention the Wedding Album!